SATURDAY
At breakfast time Borge and Blackie wanted to get some bacon and eggs. They were sick of croissants. They asked alot of people where they could get bacon and eggs, and were sent to the railroad station, but the information turned out to be false. After a long walk, they settled for croissants!
In 1944 we took out a roadblock in Chateau-Salins and the Fourth Armored went in and took over the area. We then pulled back into the Champaneaux Forest where we spent six weeks waiting for gasoline. We didn't exactly wait. Our mission was to keep the main supply roads open, and we walked miles and miles, replacing roads. We also took in replacements there. In 1984, we found the site where we had removed the roadblock, but we couldn't spot the farm where we chased chickens and turkeys with helmets, knives, etc. We had given the loot to the cooks, who prepared a nice chicken dinner for the troops. We kept the butter we had liberated, and fried some of the fowl to keep in reserve for snacks.
After six weeks, we went back into Chateau-Salins, where we were bivouacked up on a hill overlooking what we thought was the entire Fourth Armored Division so we felt very safe.. We dug foxholes, and I was sitting on my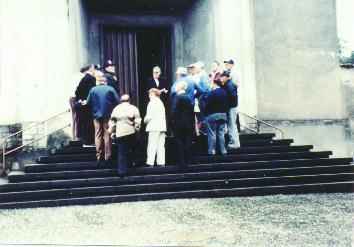 foxhole writing a letter to Lucy when my peripheral vision picked up an artillery burst off to the left; then one to the right. I got into my foxhole, and the next shell landed in the foxhole next to me, killing Carl Fryback.
In 1984 we stopped in Gramacey where we held a memorial services (left) for the three men who were killed in this area: Carl Fryback, James Cassidy, and Jimmy Kasmir. When we finished our ceremony, three doves flew over us as we stood on the steps of the chapel.
We noticed in the Battalion History the 150th passed through here on September 23, 1944. We were here again on September 22, 1984!

SUNDAY
On our way to attend an English mass at the little stone church in Diekirch, we stopped at bridge sites at Ettelbruck. At one of the bridge abutments we saw a small park and a statue honoring General Patton. This is where we first pre-fabed the pneumatic floats with the saddles and used a quickway crane to load them on trucks and unload them into the water. We used this same procedure later on the Rhine.
The people of Luxembourg observe Liberation Day July 10th in gratitude to the Anerican and British troops who gave their lives for freedom. The church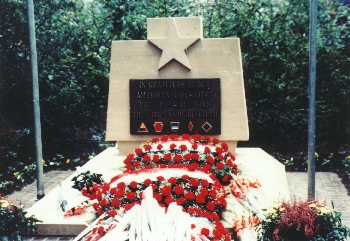 was already filled when we arrived, and two more busloads made "standing room only". After the mass, in spite of the pouring rain, the entire congregation marched to the monument in a lovely park filled with roses. There we listened to speeches by the lady mayor and the U.S.Ambassador to Luxembourg before the unveiling of the monument. All veterans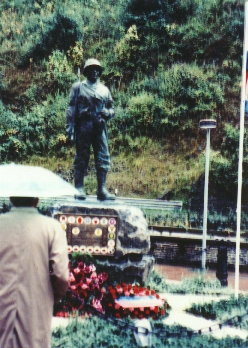 and their guests were invited to a wine reception in City Hall.
We got back into the buses and went to Clerveaux for lunch. On the way we found another bridge site in Lipperschied where A Company built a 120-foot Double-double Bailey. In Clerveaux we saw another monument which had been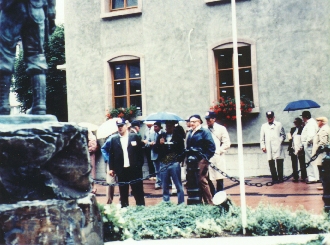 dedicated just the day before "To our Liberators" (above right). What a pretty town, way down in a valley, with no autos allowed in the center of the village. Later we returned to Diekirch for the dedication of the new World War II museum. Colonel Reagan had donated a number of artifacts.(Right; Some of the members of the 150th; Clerveaux 1984)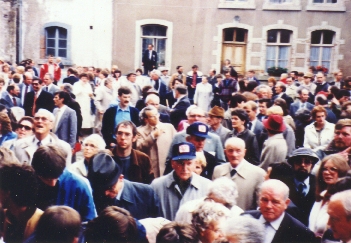 Crowd at Museum Dedication in Diekirch
(Myles Smith in foreground, left)
On the way back to Luxembourg City, as we bypassed a small village, Borge called me and said, "Hey Norm! That's where we stayed in Mersch." One night when we came back to the house after putting in a bridge, the lady of the house had made a nice, hot barley soup, and boy, it tasted good!
As we approached Luxembourg City we saw a large modem concrete and steel bridge, and Agnes, in her sweet accent said, "Und you built THAT one, too, I suppose?"
While we were in Mersch in 1944 the Quartermaster Corps had set up a shower down by a river. We had left Sarguimines with the Third Army and had been on the road for something like six weeks working under cold,
wet dirty conditions with no time for personal hygiene. A platoon at a time went to the showers. There you stripped down, leaving all your clothes except your personal items and your boots. You were given soap and a towel; and oh, that hot water felt good! When you were clean you were given a complete set from the skin out, of CLEAN CLOTHES. You put on your clothes, put on your boots, took your personal items and got on the truck to go back to Merch. (Picture is location of showers in Mersch in 1944). This quartermaster shower is mentioned in the book THE DAMNED ENGINEERS by Janice Holt Giles.

MONDAY
On to Bastogne, where the 101st Airborne stopped the Germans during the Battle of the Bulge. It was here that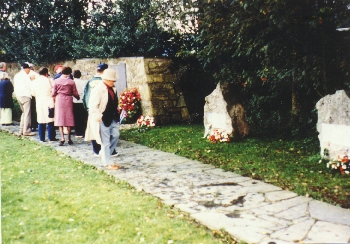 General McAuliffe gave his answer to the demand for surrender: "Nuts!". The entire city was destroyed in the battle.
In Malmedy we stopped at the memorial to the American prisoners who were murdered there by the Germans. (Picture, right).
Then we persuaded the Colonel, and Agnes, and Carlos to take us to that little town called Hoesdorf where the 150th put the 80th Division across the flooded Sauer River in assault boats under cover of darkness, under fire, after several failed attempts to build a bridge. The Colonel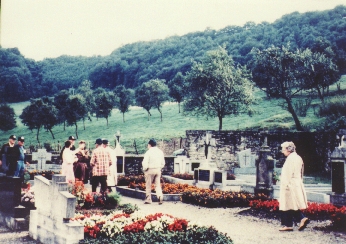 had not been involved in that mission, so didn't understand why it meant so much to us, and it was only after Hoesdorf that Agnes understood that our group was NOT in Europe to see castles and cathedrals!
The Colonel said, "Due to time restraints, we will say a little prayer outside the bus, and then go on." We had a different idea. As the doors of the bus opened, we headed down into the tiny village and into the cemetery, (left) where we could view the apple orchard (below) and the river that we had seen only at night until this day.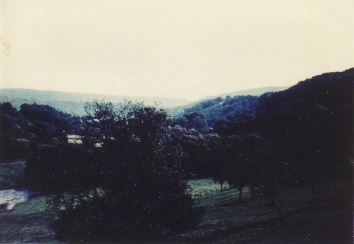 The Seigfried Line across the river was gone. All the pillboxes and bunkers from which the enemy fire came had been destroyed and removed.
We met a lady whose mother had told her what we had done there. We persuaded Agnes to come down and interpret as we conversed.
When we got back on the bus, most of the men agreed that was, for us, the high point of our trip to Europe. As they took turns at the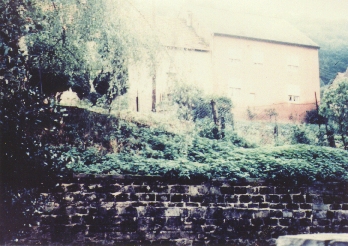 microphone they described how vulnerable they had felt as they took the assault boats down that brilliantly lighted hillside to the water under heavy artillery fire from across the river; and as they came back from across the river with prisoners to seek shelters in the cellars of the village houses. (like pictured at left). "It felt like they were all aiming at me."
TUESDAY
On Tuesday we entered Germany. Trier is Germany's oldest city, dating from the first century before Christ. A Roman bridge is still in use on a main road of the town. After Trier, going towards our hotel in Koblenz, we traveled a Roman road built by Constantine; very narrow, through a tiny village in the Mosel valley, heading for a bridge site at Moselkern.
The 150th had built a 378- foot heavy pontoon bridge at Moselkern, and I had raided a beer garden and picked up enough wine for the platoon.
What a change as we crossed the border into Germany. Everything was fast. At our hotel in Koblenz our evening dinner took half an hour, from salad through dessert, and was just as elegant and delicious as the three-hour dinners in France! We went up to our room on the top floor. It had been completely renovated, with sky-lights and wood paneling. Opening the skylight, we could look out at the Mosel River. The beds were single beds, immaculately done up, with one quilt--an eider puff, actually--that was shorter than I am and not much wider. The temperature was such that you needed some cover, but not that much; so all night you were hanging an arm or a leg out from under the covers, trying to cool down.
WEDNESDAY
On to Oppenheim, where we built the first bridges across the Rhine to allow Patton to proceed with his tanks and infantry. We were billeted in a wine merchant's house and down in the cellar were big wooden barrels full of wine aging. I took the owner down into the cellar (with my rifle) and, in case the wine had been poisoned, I had him siphon out some wine and drink it. Then I had to taste it. Before we were through, we were friends, and all the guys knew they could get all the wine they wanted from down in the barrels, and we had mentioned which ones were the best. Now he had bottled a substantial supply of wine which we took out to the road where the Fourth Armored was passing to go across our bridge. We gave bottles of wine to the men on the tanks and jeeps and half-tracks and the armored cars that went by. Forty-one years later, on a golf course at Myrtle Beach, I met a man who had received one of those bottles. Lately I found that one of the members of the VFW in Avon CT also got a bottle. We march together every year in the Memorial Day parade.
At Oppenheim we saw (in 1984) the modern army's bridging already in place at the sides of the Rhine. All they had to do was move it into position and tie it together. We changed money there in a bank; then we went for a ride down the Rhine on an excursion boat. We went past the Loreley, and saw many castles.
THURSDAY
Enroute to Bayreuth we stopped in Nurnberg, shopped, and went up into the new Nurnberg Tower and looked over the construction that had taken place since we were there last. We also saw the building in which the Nurnberg trials were held after World War II.
Then we went on to Regensburg where we were billeted in that German artillery outfit and rode horses through the bombed out aircraft factory buildings. Faile and I were on detached service with an artillery unit working with German POW'S. One of them cut his SS tattoo out from under his arm with his pocketknife!
We had a tour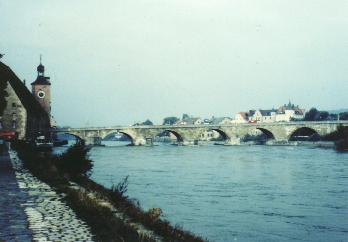 of Regensburg on the Danube by boat, then had lunch on an Austrian steamer built in 1865. The medieval stone arch bridge in Regensburg (pictured left) is the longest in the world. It has fifteen arches. In Colonel Reagan's ODYSSEY WITH PATTON he states that most of the officials we worked with here were elderly and maimed or disfigured from the war. One reported that when the German SS troops were scorching the earth near the end of the war the citizens tried to prevent destruction of their old stone arch bridge. In answer, half the town council was gunned down in front of the others, and part of the bridge was destroyed.
In Straubing we found our bridge site by remembering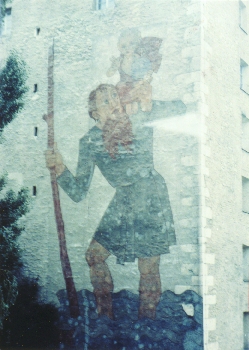 a mural on the wall of a building; still there, forty years later! The war was over when we built this one. It was built for two reasons:
1.) to keep us busy while we waited for passage home or to the Pacific Theatre; and
2.) to build up the civilian economy. It was to be a permanent bridge, but they were working with equipment unsuited to the job. Ninety-foot beams had to be dragged to the site by hand; then there was no equipment to stand them up with. Later when we were trying to blow debris out of the navigation channel, a German couple who were trying to repair their tile roof fought a losing battle. Every time they would get a section of tiles in place, another blast of TNT would go off in the river and the tiles would dance merrily in the sun. The bridge only lasted a short time, because there were no fenders to protect it from ice damage in winter, but it gave the German population time to construct a permanent bridge.
One day I asked Colonel Reagan why he was always walking around with packets of vegetable seeds. He was giving them to the German people because they are almost impossible to buy over there. You have to grow your own seeds.
We stopped in Heidelberg and saw the ruins of Heidelberg Castle. At Saarbrucken we held a farewell party. At Luxembourg Airport we said goodbye to Carlos and Agnes, and the red bus which was blue We enjoyed our fortieth anniversary battle sites tour, but I have always wished we had had a driver from the 150th with us. During the war, we could only see where we had been, from the back of the trucks; not where we were going! As it was, we picked up a bit of culture, and Agnes and Carlos learned a bit about combat veterans.